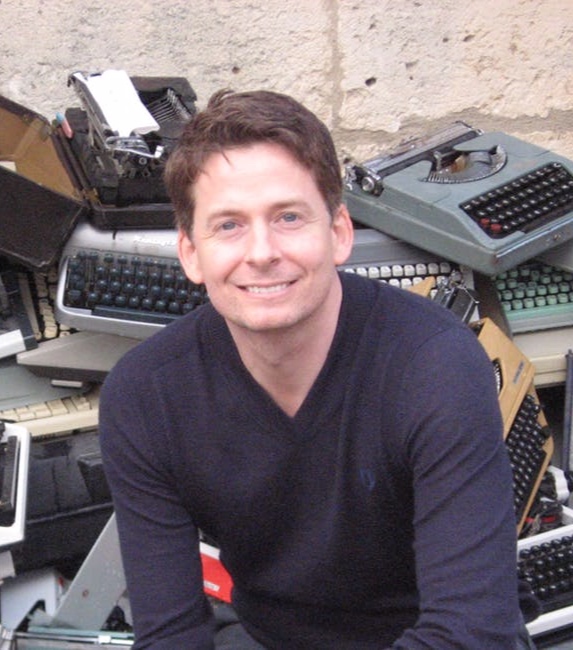 John was born and raised in New England, the son of a truck-driver father and stay-at-home mom. When he was a teen, his parents announced that they were going to start sending him trucking with his dad in order to "make a man out of him." Since there was only so long he could stare out the window or listen to the crackle of other truckers' voices on the CB, John began devouring books on those trips – most were by Stephen King and John Irving, since those were the mass market titles available at truck stops, along with his father's trucker erotica, which John would sneak out from their hiding place beneath the mattress in the back. Those books, and all the miles on the road, might not have made a man out of him in the way his parents intended, but they did make him a reader and writer.
After his high school graduation, John's parents used their connections to get him a job at the nearby Dupont factory, where he gathered parts for various job orders. It didn't take him long to realize the place wasn't for him—three hours into the first day, he pretended to be sick and left, though when his parents found out, they sent him right back. After that, John set his sights on becoming the first person in his family to attend college. To save money for tuition, he stayed on at the factory and worked a night job as a telemarketer, keeping people on the phone for hours asking important questions like, "On a scale of one to ten, how do you rate Bubble Yum in terms of its chewability?" When he had finally saved enough, John quit the factory and began commuting to Southern Connecticut State University. He majored in business, because he thought it was practical, but minored in creative writing, because it was something he loved.
A year before graduation, John lost his younger sister Shannon to a childhood illness. This tragedy led him to pursue his writing more seriously, and he went on to win a number of writing awards from the university. Encouraged by this recognition, he moved to New York City to seek a master's degree in creative writing at New York University, where he was twice awarded a major fiction prize for his short stories and also began writing a novel called Stones in the Airfield. Following his time at NYU, John waited tables and attempted to publish his novel. His most memorable rejection came when an editor mistakenly left this note in with the manuscript: "I could barely make it to page 60 and I feel really sorry for anyone who has to read the whole thing." Soon afterward, John attended a writer's conference in South Carolina, where he met the fiction editor of Redbook. She liked his writing and offered him a freelance job reading short story submissions for fifty cents a story. It wasn't much, but he preferred reading to serving Caesar salads and nachos, so he took that job for over a year until he was given a part-time position in the books department at Cosmopolitan.
John planned to give Cosmo a try for a few weeks and quit if it got in the way of his fiction writing, but then for more than fifteen years, he served as the books editor at the magazine, and eventually became the Editorial Brand Director as well. Under this newly created position, he launched a book line, which grew to over one million books in print. He also oversaw the magazine's website, increasing its monthly unique visitors from 500,000 to over five million. He managed the launch of Cosmo Radio on SiriusXM, CosmoTV in Canada, a Cosmo movie called Beauty & the Briefcase starring Hilary Duff, and numerous other successful brand extensions. John continues to work with the magazine as Editor-at-Large.
While balancing his magazine career, John began writing Boy Still Missing after the first sentence came to him while cleaning under his bed. In 2001, the book was published and went on to become a national bestseller. Hailed as "riveting" by The New York Times and "hypnotic" by Entertainment Weekly, the novel inspired Timemagazine to name him a "Person to Watch" and the New York Daily News to name him a "New Yorker to Watch." His second novel, Strange but True, also a national bestseller, was praised as "sinister and complex" by Janet Maslin of The New York Times and "extraordinary" by Publishers Weekly. Both novels have been optioned for film, and John wrote the screenplay to Strange but True, which has been purchased by GreeneStreet Films in partnership with award-winning producer Ross Katz and will be filmed in Canada in Fall 2013.
John frequently appears on NBC's Today Show and CBS's The Early Show to discuss his favorite book selections. He has also appeared on NPR's Fresh Air, Live! With Regis and Kelly, and CNN. His essays, articles and reviews have been published in the Washington Post, The New York Times, Redbook, Out, The Daily Beast, and many other national magazines and newspapers.